Like most Japanese watch brands, they either fall under the radar of most watch collectors, or they're considered too cheap and mass-produced to be worthy of being added to anyone's collection. However, in the past decade, that perception has changed a lot. The emergence of Grand Seiko as a luxury brand and the internet beasting of these unknown models are helping the brands become more mainstream.
Rolex is the brand that most people recognize as the premier dive watch maker, and the most coveted, even as a mass produced product. I believe there are more elegant options out there, like Blancpain or Seiko, which offers high/low end options, but apparently I am in the minority. Don't get me wrong, Rolex is a fantastic watchmaker, but they are as common as a Toyota Camry (which is a terrific car).
That brings me to Orient. They are an in-house brand under the Seiko Epson umbrella. What's great is that Orient still makes its own movements and has a great range of dress and sport watches. The Orient Star label has a beautiful selection of skeleton watches that won't break the bank at $2000 to $3000. The aesthetics of the Orient brand is a bit different than Seiko, I would call it more "chunky" but not in a bad way.
The Pro Saturation Diver, ref#: EL02003H, is a beast, at 45.7mm. It definitely is a bit on the tall side, and anyone with a small wrist might want to stay clear. Thankfully my wrist is on the medium side, and I can rock this watch without much fuss. The movement is in-house Cal.40N5A, 21,600 vibrations/hour, Made in Japan, with a somewhat dated, 40H reserve. The water resistance is 300M, but I believe that it can go deeper, since the heft of this case is serious. There is no helium escape valve, but I can't think of any particles getting into this. The one-direction bezel is the tightest I've ever tried to turn on a watch, but it gives very good feedback, and for some reason, I equate that with quality manufacturing.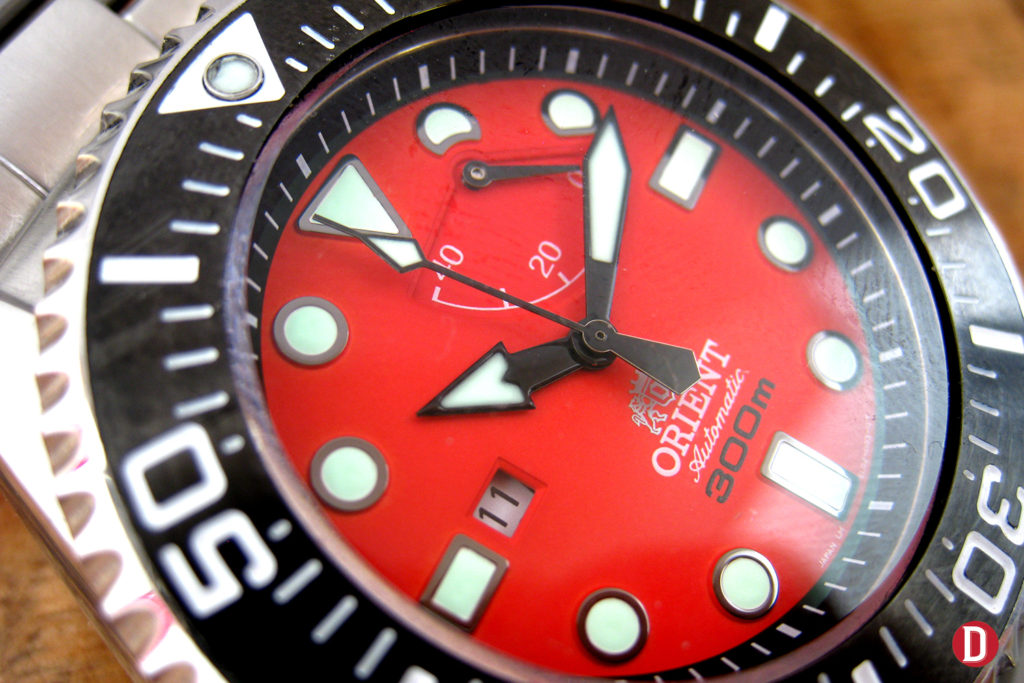 The crystal is sapphire and the bracelet is adjustable on the fly. This model is available also with a black or white dial, but I believe this watch might be out of production. There seems to be new models with this movement, but of course, with a lot of brands, there is never any official word in regarding the availability. The original list price was around $2000, but you can find it used for $800.
I would recommend this watch for anyone that has a medium to large sized wrists, and is looking for a serious utility watch, somewhere between a budget Seiko or a Tudor Pelagos. It might not be everyone's cup of tea, and it's not Swiss, but for a watch that can stand a good thrashing, there's nothing in this price range that is comparable.